Language
The local village dialect is a mixture of Maithili, and Hindi. The official spoken languages are Maithili, Hindi, and Urdu.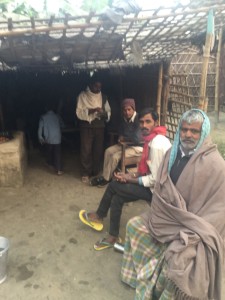 Religion
Historically, the residents of the village have been Hindus as well as Muslims. It has a Hanuman Mandir, a Kali Mandir, a Shailesh Mandir, a Masjid, and a Mastan Baba ka Mazar (mausoleum). Every year the people here celebrate Saraswati Pooja (Vasanta Panchami-वसन्त पञ्चमी), Chhath छठ पुजा, Durga Pooja], Diwali, Holi and Muharram. Chhath Puja and Muharram are the major festivals.
Cuisine
In general, Umaidpurian Cuisine is very similar to Maithili Cuisine with a unique flavor.
The daily meal thali at an Umaidpurian home comprises – roti (wheat puffed bread or Makai ke roti), tarkaari (vegetables), daal (bean cooked in water),and bhat (boiled rice). Poultry, goat meat, Jhinga Masaledaar, Jhor Waali Machhli (fish curry) and eggs are generally cooked only on weekends or on a special occasion. Among all the varieties of food eaten by the Umaidpur people, Dal Puri (Chanā Dāl or Moong Dāl Stuffed Pan-Fried or Deep-Fried Flat-Bread), Puā (Whole-Wheat or Flour Pancakes), Malpua (Whole-Wheat or Flour Pancakes in Simple Sugar Syrup prepared in milk), Kheer, triangular Sādā Paratha/Parauthā, round Āalu Paratha/Parauthā, Puri (Wheat-Flour Deep-Fried Puffed Bread), Kachori (Nigella Puri), Aloo Chokhā (Boiled potatod mashed with mustard oil, onion and green chili), Bajka, Baigan kā Bharta/Chokhā, Khichdi (Mix of Rice, Dal and several Vegetables), Dāl-Kaddu, Dāl-Pitthā, Buut kā Ghugni (black grams soaked either lightly/overnight in water and then sauted in mustard oil in a wok), Bhunjā generally eaten as a snack in the evening, Moori (puffed rice), Choora (puffed rice)- Dahi, Sattu – powdered baked gram, Tilkut [Makar-Sankrānti], Pirikia are the most famous cuisine. Among TARKĀRI (Sabzi, Vegetables), Bharwan karela, Ālu kā Bhunjiā (Potato Fries), Bhindi kā Bhunjiā (Okra Fries), Karelā kā Bhunjiā (Bitter Gourd Fries), Parwal kā Bhunjiā (Pointed Gourd Fries) are very popular.
Clothing
The traditional dress of Umaipurian people includes the [[dhoti]]-[[kurta]] for men and [[saree]] or [[Kameez]]-[[Salwar]] for women.http://samastipur.bih.nic.in/history.aspx#culture Western shirts and trousers are popular among the youth male population. Modern jewelery such as rings for men and bangles for women are popular. Traditional Umaidpurian jewelaries include "Chhara", "Hansuli", "Kamarbandh",etc.
Gram Panchayat, Sukhdeo Roy. By British times, his father, Sukkan Roy who was married to Mundari Devi used to be a Tokedar of the Umaidpur village. During British rule, all villages were part of estates run by independent zamindars who called themselves Raja or directly ruled by the British Raj. At the close of the 15th century this area was part of Bengal and ruled by Afgan King prince Dyal. With the decline of Mugals 1556-1764, this region was passed under the control of Nawab of Bengal -Mir Kasim Ali . British first occupied this area through East India company in 1766. Then this village area belonged in the Monghyr district. Narhan state sub-division consisted of the districts Darbhanga, muzzaferpur, monghyr, Patna as a part of Monghyr district . This area became part of Bengal presidency during the British raj in 1858. In 1912 this area became part of the new province created as a Bihar. The unfertile land of Umaidpur village was part of the Narhan Estate and Jaintpur Estate Muzaffarpur, whereas fertile land was taken over by the British Raj. Mainly indigo, poppy, sugar cane and tobacco were cultivated by the British Raj Estate. The land revenue (malguzari) was collected with the help of Jeth Rayaits in the Umaidpur village by Tehsildar (revenue collector). Sukkan Roy was the Jeth Rayait for Narhan Estate, whereas Ram Pratap Roy was Jeth Rayait for Jaintpur Estate Muzaffarpur. Chullahai Hazari was the Brahil of the Umaidpur village, whose responsibility was to inform villagers to come at Jeth Rayat's house to pay land revenues. Harsinghpur Kothi (2 miles east of Umaidpur) was the regional office of British administration, where British officers use to stay. T.I. Pal was the British officer representative of Umaidpur and other adjacent villages before 1947. When Britishers were leaving India, they sold all their lands to Janak Kishore Prasad, including their Bungalow (Harsinghpur Kothi).